What is the Best Sunroom Flooring Option?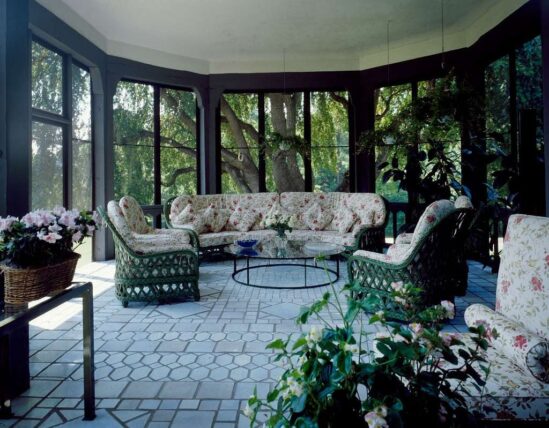 Are you curious about the best sunroom flooring options? You've come to the right place! Natural sunlight and comfy chairs play a big part in the design of a sunroom, but they aren't the only things that matter.
The types of floors in a sunroom can also have a significant impact on the room's design and flow. Not all flooring options are appropriate for the climate of a sunroom, so choosing the right floors is not always as simple as you might think.
Flooring Challenges in a Sunroom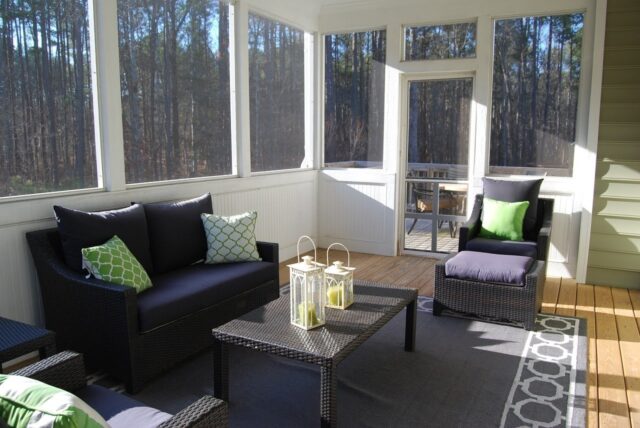 Choosing the right flooring option for your sunroom can come with its own set of challenges. Material strength, durability, scratch resistance, and weather resistance are all important factors you need to consider.
Humidity
Due to the sunroom's proximity to the outdoors, this room is increasingly susceptible to high humidity levels. This creates an environment perfect for mildew and mold, which not only impacts furniture but may also cause damage to the floors. For the best sunroom flooring, be sure to look for options that are either water-resistant or waterproof.
Outdoor-Friendliness
In addition to the constant exposure to sunlight and humidity, your sunroom will also be in close proximity to the outdoors. That means sunroom flooring is going to see lots of dirt, mud, insects, and foot traffic from both humans and pets. When choosing new floors for a sunroom, try to look for scratch-resistant options that are known for their durability.
The Best Options for Sunroom Flooring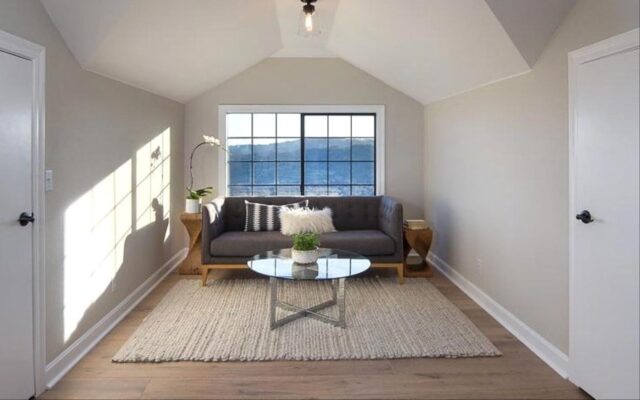 While you might think vinyl is an ideal choice for sunrooms, that's actually not the case. Vinyl doesn't do well with constant exposure to direct sunlight. Neither does laminate. Engineered hardwood is more resilient against temperature changes and humidity than solid hardwood, but even it can't stand a sunroom's harsh and extreme climate.
So, with some of the most durable choices off the table, which flooring is most suitable for sunrooms? Here are the best options for sunroom flooring:
Carpet Tiles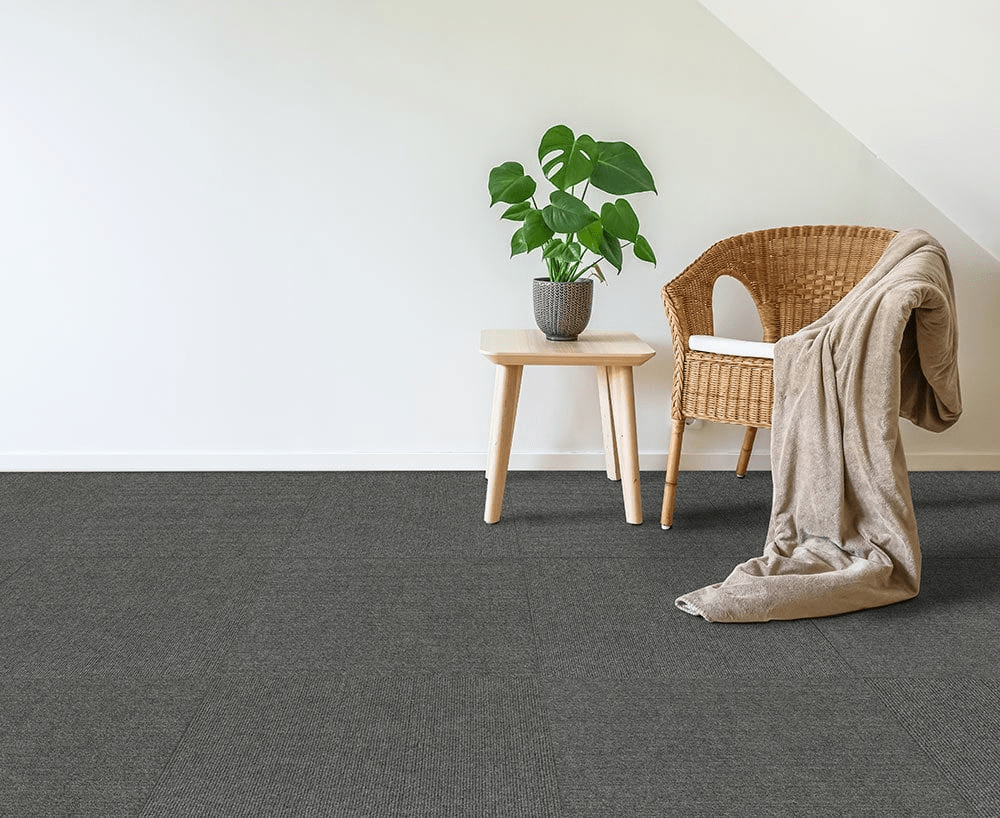 While many believe carpet tiles are exclusively an indoor flooring option, that can't be farther from the truth. In fact, there are many carpet tile options available on the market that are perfect for outdoor use. They're designed to handle heavy foot traffic, boast high durability, regulate extreme temperature transmission, and won't fade when exposed to direct sunlight.
And since they're super easy to install, carpet tiles are easily repaired or replaced. All of these incredible qualities make carpet squares an ideal choice for a comfortable and stylish modern sunroom.

Porcelain Tiles
Due to their water resistance, porcelain tiles are incredibly suited for areas in the home particularly vulnerable to moisture, including bathrooms, kitchens, mudrooms, and sunrooms. They're scratch-resistant and built with durability in mind, which means they won't buckle under heavy foot traffic. Additionally, they come in various colors, styles, and designs, making porcelain perfect for any design aesthetic.
Slate Tiles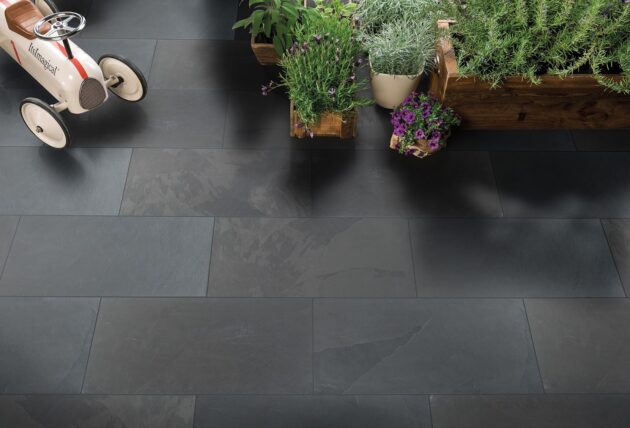 When outfitted with a waterproof membrane and moisture management, slate tiles are both water-resistant and slip-resistant. Paired with its extreme durability, this combination makes slate an ideal option for the high levels of humidity and temperature fluctuations often found in sunrooms. And, similar to hardwood floors, slate embodies luxury and sophistication, making it a perfect choice for the modern and stylish home designer.
Ceramic Tiles
Like the tile options previously discussed, ceramic tiles are scratch-resistant, water-resistant, and exceptionally durable against everyday wear and tear. They also hold up well against extreme temperatures and won't be ruined by close proximity to the outdoors. And since the color is fired directly into the tile's body, it will never fade when exposed to direct sunlight. So, with proper care and maintenance, ceramic tiles can last decades – even in a sunroom.
How to Get the Best Deals on Sunroom Flooring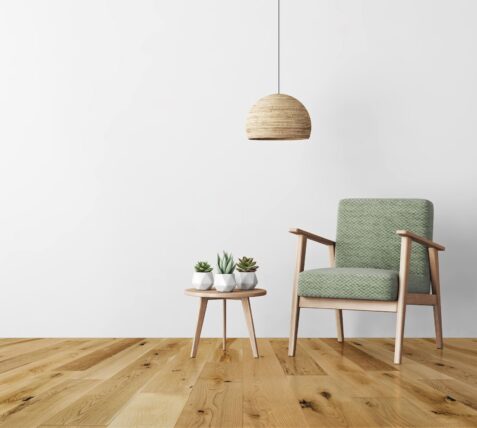 Sunroom flooring may take a lot of abuse from the elements, but modern flooring technology has advanced so much that those fears are a thing of the past. If you choose one of the flooring options above, you can trust that it'll last for years to come.
At BuildDirect, we offer the best selection of flooring options on the market. Our flooring options are hand-selected by industry experts, and our customer service can't be beaten. Plus, if you become a PRO Rewards member, you'll get exclusive access to unlimited free samples, on-site delivery, a 30-day money-back guarantee, 5% credit, and more! Become a PRO today!.

---
---