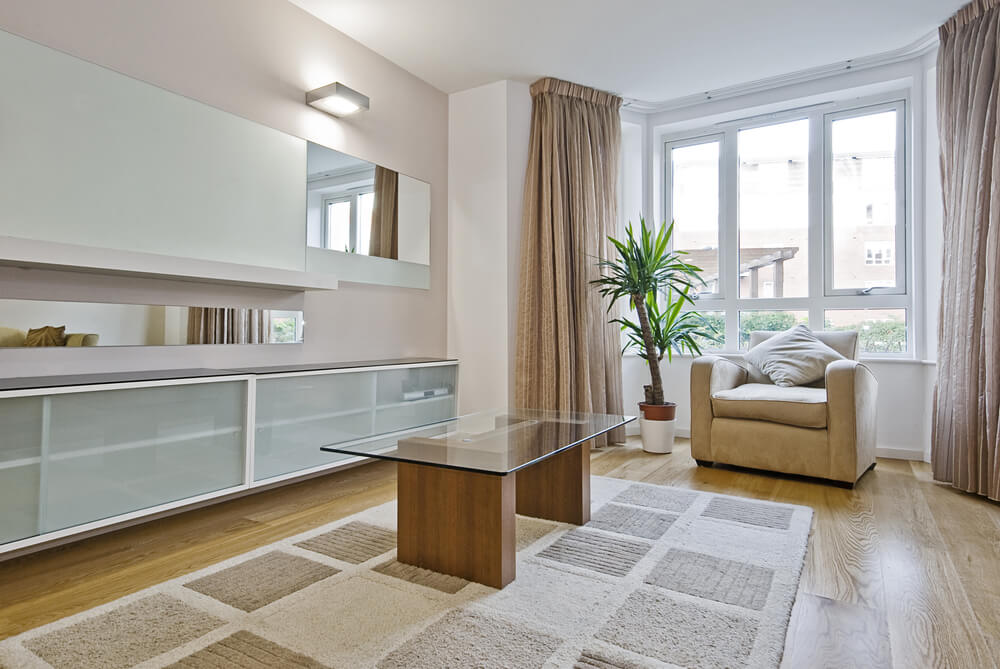 Modern Laminate Flooring Trends
At this time of year, it's always exciting to see what's new in the interior design world and what styles are still holding strong for another year. Designers will be breathing new life into old interior design trends with softer and unexpected color palettes gaining popularity.
To help you create a space that feels like a comfortable sanctuary, looks exuding a quiet luxuriousness and a discrete refinement are being forecasted. When it comes to laminate flooring, more unique trends are going to be taking some of the spotlight from the standard dark wood and handscraped looks that have been continually in vogue the past few years. Contemporary laminate flooring styles (and laminate flooring colors) that are rich with character and a sense of craftsmanship will be in the forefront. Four of the top laminate flooring trends you'll see out there include:
1. Greige
If you haven't heard of greige before, it's a fresh neutral that's gaining steam in the interior design world with its muted yet sophisticated range of tones. Following the popularity of gray, which is still on trend this coming year, greige is a taupe-like color somewhere between beige and gray that provides a minimalist European look for your space.
Offering a softer and slightly warmer look than straight up gray, greige laminate is a welcoming and cozy flooring choice that works well in modern, rustic modern, and traditional homes with modern touches. With a visually quieter aesthetic, it pairs nicely with other neutrals, wood tones, and weathered design accents. An incredibly versatile flooring color choice, greige will open up your décor possibilities with its clean and casual earthiness.
2. Whitewash
A great option for brightening up and making your interiors feel more spacious, white wash laminate floors are steadily taking the spotlight from the continually popular espresso and dark chocolate brown type of styles. Offering a tranquil sense of softness and an antique feel, white wash floors are becoming a go to choice for casual installations like beach or seaside homes.
A look that pairs especially well with wide plank designs, white wash laminate is an incredibly versatile foundation to build your room's décor upon. For 2015, we are going to see white wash styles evolve from white wash being only in the grain to all over wash designs. This look works great for both rustic/distressed and clean-line contemporary applications. All over white washes will add even more light to your space, lending to a subtly elegant, Scandinavian inspired interior. An added plus, they will go with just about any style of furniture and paint color on your walls.
3. Chevron patterns
While herringbone floor patterns have been on trend for the past couple of years, chevron wood floor looks are starting to gain more popularity for both floors and walls. While this classic motif reflects design traditions from the past, it's a visually stunning choice for modern spaces.
Offering an abundance of texture, you can use this pattern with both light and dark finishes to achieve the look you're after. Also, this pattern's clean lines will make nature inspired wood grain patterns pop. A bold and geometrical look that works well with laminate flooring, chevron patterns are achieved by cutting flooring planks on an angle and laying them end-to-end at 90º angles to create an inverted V formation. Although it may cost you a bit more to install, the distinctive and inviting finished results are worth it.
4. Parquet
A style of flooring that was first made popular way back in 17th Century France, parquet flooring is making a real resurgence as of late. Off the radar for a few decades in favor of plank style flooring, parquet is a stunning alternative to more minimalist looks. Offering elegant character and artistry, this historically inspired trend will give your interiors a customized appearance.
Previously available in very traditional or country inspired looks, we're now seeing newer, more modern designs and trendy colors like grey being introduced into the market. Because of its popularity, parquet is no longer just being offered in hardwood, it's becoming available in laminate as well. With its dramatic texture and distinctive geometrical patterns, parquet is on track to make a big impact in the laminate flooring industry.
An enticing time for a new floor
Whether you have a traditional, contemporary, or modern design taste, this coming year's laminate trends have something for you. With a range of rich styles and attractive clean lines on the radar, it's an enticing time to be planning a floor renovation.
---
---