Laminate vs Tile Flooring: Costs & Comparisons
Flooring considered the fifth wall by interior designers, has the tough job of ensuring that a design achieves the desired look and meets durability expectations—all while staying on budget. Navigating the seemingly endless possibilities can be puzzling.
Tile vs Laminate Comparison
Let's take a look at two options (tile vs laminate) that are quickly climbing to the top in terms of variety when it comes to wood and stone looks, but differ in their durability and cost breakdown.
Laminate Flooring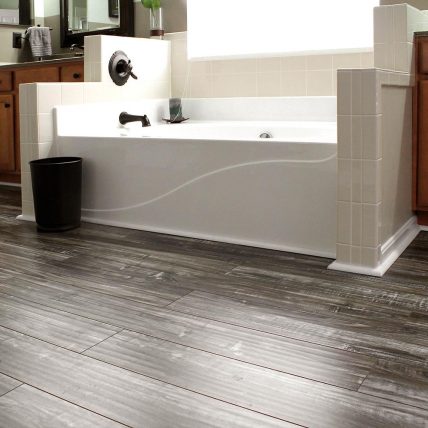 What is Laminate Flooring?
Laminate flooring is a wood-look flooring with a particleboard base, typically high density fiberboard (HDF), topped with an image layer as well as a transparent wearlayer. To protect the laminate flooring, it is finished with an extremely hard, clear coating made from special resin-coated cellulose.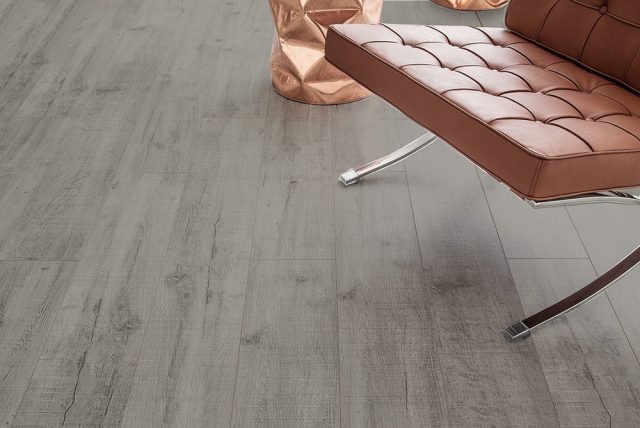 Pros of Laminate Flooring
Laminate flooring is considerably more affordable compared to solid hardwood, and with its ease of installation, you will save even more by doing it yourself. Due to the advancements in imaging technology, laminate flooring looks remarkably like solid hardwood and stone. Laminate flooring is easy to clean, all you need is a broom or vacuum and a dry mop for daily cleaning. Its water- and scratch-resistant qualities make it an ideal choice for homes with pets and children.
Cons of Laminate Flooring
Some Laminate is considered water-resistant, however, it is not waterproof. Prolonged exposure to moisture can cause swelling, making it an unlikely flooring candidate for bathrooms and laundry rooms. Laminate flooring tends to chip easily during installation if the wrong techniques are used or if the flooring is not handled properly. Laminate flooring's lifespan ranges from 15 to 25 years compared to the lifespan of solid hardwood at 80 to 100 years.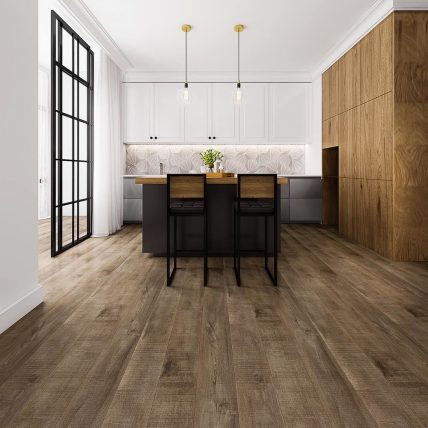 Material and Installation Costs
Laminate flooring's average cost runs $2 to $4.50 per square foot. Should you go DIY or pro? Professional installation costs can range from $1 to $3 per square foot.
Are you removing your old floor covering yourself or will your installer be removing it? Removing old laminate flooring can cost upwards of $400 for a 200-square foot area. Carpet removal, on average, runs $1 to $2 per square foot.
Does your subfloor need to be repaired and/or prepped for the new flooring? It would be beneficial to have an installer inspect the subfloor and make any necessary repairs prior to installation, which can tack on an estimated $550 for 300-square feet.
Tile Flooring
Popular Types of Tile Flooring
Porcelain
Porcelain tiles are made of clay, just like ceramic tiles, but they are baked at a much higher temperature, making them denser and harder than ceramic tiles. With such a high level of durability, porcelain tiles are ideal for any area in and around your home.

Ceramic
Ceramic tiles are made of clay and have a glazed surface. They are ideal for areas with high moisture, like bathrooms. However, it is important to check the water-absorption rating first. The lower the rating, the higher the water resistance.

Travertine
Travertine is a naturally occurring stone that is extracted from various quarries all over the world. Its appearance is determined by the geological conditions of the area in which it is found. Travertine is best installed in areas of moderate use and provides a rustic look.

Marble
Like Travertine, marble is also found in nature. Formed through high temperature and pressure, marble is an extremely versatile stone that can be used anywhere. However, it is not recommended for use in kitchen countertops due to its vulnerability to acidic substances.
Slate
Consisting of mainly micas or clay minerals, slate is a naturally slip-resistant surface which makes it perfect for not only indoor use but also outdoor. Its color variations offer a spectrum of greys, ranging from light to dark, but also come in red, purple, brown, green, and black. It is important that slate tiles be installed on a solid substrate or they will inevitably crack.

Pros of Tile Flooring
When sealed properly, tile flooring can be highly water-resistant. It is also scratch-resistant and pet- and child-friendly. Porcelain tile has come a long way with its wood-look aesthetics, and travertine, marble, and slate are perfect for creating a clean, stone look in or around your home. For daily cleaning, a broom and damp mop are all that is required. Tile flooring can add value to your home with its timeless look, and the lifespan of tile ranges from 75 to 100 years when maintained properly.
Cons of Tile Flooring
Tile flooring, depending on which tile you select, can be considerably more expensive than laminate. It is difficult to replace if it becomes damaged. A savvy DIYer could certainly install a tile floor; however, it is recommended that a professional installer be used. The tile itself is easily maintained, however the grout can be difficult to clean due to its porous nature. It's cold! Tile flooring does not absorb heat well and will be a shock to those toes first thing in the morning. It also takes a toll on your body if standing for long periods of time.

Material and Installation Costs
Tile flooring ranges from $2 to $20 per square foot with ceramic tile at the lower end and marble at the high end.
Want to go pro with your tile installation? Professional installation can cost $5 to $10 per square foot. This does not include prep work. Floor prep can tag on another $2 to $4 per square foot.
Removing tile yourself can cost on average $1 to roughly $2 per square foot. This estimate includes tool purchase/rental and debris disposal costs. For professional removal, expect to pay around $4 per square foot.
The Best Place for All of Your Flooring Needs
Shop for your new laminate or tile floor with our team of experts. BuildDirect can answer your questions, such as whether natural stone or ceramic is better for your project, or show you the different porcelain tile looks, or explain the best places to install laminate. No product question is too simple or too complex.
First-time flooring buyers and experienced installers will benefit from our PRO rewards program by saving money while maintaining high-quality end results. Become a member of our PRO Rewards program today for unlimited free flooring samples and many other benefits that will give you an edge over the competition.


---
---