How to Choose the Right Flooring for a Mobile Home
Are you interested in finding the right flooring for a mobile home? You've come to the right place. When it comes to mobile home flooring, there's no need to think small or simple. Give those floors the time and attention they deserve.
Here are some tips for choosing the best flooring for a mobile home:
4 Considerations for Mobile Home Flooring
When you're planning a mobile home flooring installation project, there are four important considerations to keep in mind. These points may vary between homeowner, budget, and project, but they're essential to getting the job done right.
1. Cost
No matter who you are or what kind of project you're going to undertake, cost should always be considered. Budgets vary. Some people may have a blank checkbook to play with, but that's not often the case.
Just like any other product on the market, materials are going to range in price. Whether you want hardwood or tiles, choose the option you like, but that also fits your budget.
2. Durability
Mobile homes are just like any other homes – they get a lot of foot traffic. The last thing homeowners want is to get brand new floors installed that wear down almost immediately. That's why durability is critical. When you're choosing the right flooring for a mobile home, choose flooring that will stand up well to the usual wear-and-tear of everyday life.
3. Style
Style is subjective. Most people like different things, so while one homeowner may love rustic and sturdy dark hardwood, and someone else might want a lighter, cleaner look with laminate tiles. It all depends on personal preference.
Luckily, there are many great flooring options for mobile homes, including hardwood, laminate, vinyl, engineered wood, and so much more! Each of these is customizable, allowing homeowners to also choose between countless colors and patterns, as well as a variety of materials.
4. Installation
Whether you're a contractor or a DIY-er, installation is an essential consideration. First and foremost, we're talking about replacing the floors inside a home. If it's a partial replacement, then you may only have to block off one or two rooms. That may be inconvenient, but it's doable.
However, if you're replacing the floors in an entire house, while the project is underway, no one will be able to access the inside of the home. That's a significant inconvenience and definitely something you want to minimize as much as possible. Choosing the appropriate flooring type will impact the time and ease of installation.
What is the Best Mobile Home Flooring Material?
Now that we've covered the primary considerations of flooring installation projects, you're probably wondering which material is the right choice for mobile homes. Here are the four best materials for mobile home floors.
Vinyl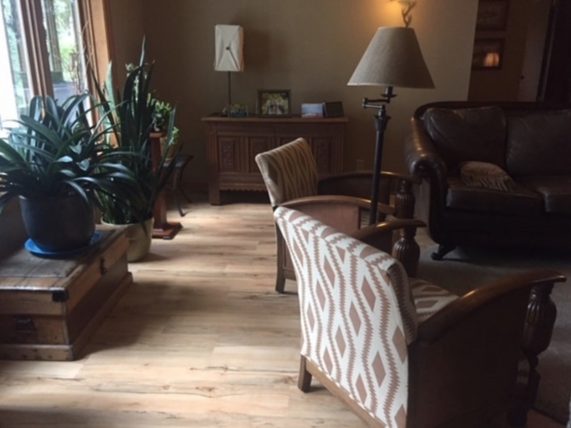 Vinyl is an excellent option for mobile homes. It's scratch-, stain-, and spill-resistant, holding up well to the foot traffic of any home. Plus, it's easy to clean and maintain. Whether you're looking for something clean and minimal or more rustic and fun, vinyl might be the right choice for you.
Engineered Hardwood
Engineered hardwood gives you the beauty of hardwood without all the maintenance. A spill won't cost an arm and leg to fix, and you won't have to worry about moisture and temperature regulation as much. With a range of colors and patterns to choose from, engineered hardwood is a customizable option and the perfect choice for any mobile home flooring installation.
Laminate
Laminate is a favorite among installers and DIY-ers for a reason. Installation is a breeze, saving you time and it's easy to clean and is durable against normal wear-and-tear. Plus, it allows you to enjoy the look of natural wood without any drawbacks. Laminate is an especially good option if you're looking for something affordable and available in a wide range of patterns and styles.
Hardwood
Hardwood is a popular, luxurious option. Hardwood flooring may require more maintenance and cost a little more, but it's well worth the expense. Species like oak and maple can bring a whole new level of sophistication and beauty to your mobile home floors.
Carpet
Carpet is a fantastic, budget-friendly choice that immediately adds coziness and warmth to a home. It improves indoor climate control and helps absorb noise, too. There are also numerous style choices with carpet making it a stylish option for any design motif. The clear downside to traditional carpet is the risk of staining. However, if you go with an option like carpet tiles, you can easily remove and replace stained tiles. Carpet tiles allow homeowners to enjoy the benefits of carpet without many of the downsides. 
Where to Buy Cost-Effective Mobile Home Flooring
No matter which materials you choose for your mobile home flooring, you want to ensure that you buy them from a reliable and trusted source. At BuildDirect, we offer the most cost-effective and dependable flooring materials and solutions on the market.
Plus, if you sign up for our PRO Rewards program, you get exclusive access to incredible deals, unlimited free samples, on-site delivery, 5% credit, and more. 
Become a PRO Rewards member today!
---
---