The Best Open Office Flooring
If you work in an open office setting, keeping your workspace attractive and dealing with excessive noise are both common concerns that can affect productivity. Whether you're looking to remodel your current office space or you're moving into a new one, there are a few helpful suggestions that will ensure your open office flooring works for you. Before you decide on the right type of flooring for your place of business, read on to learn more about some examples of what makes various types of flooring ideal for an office area.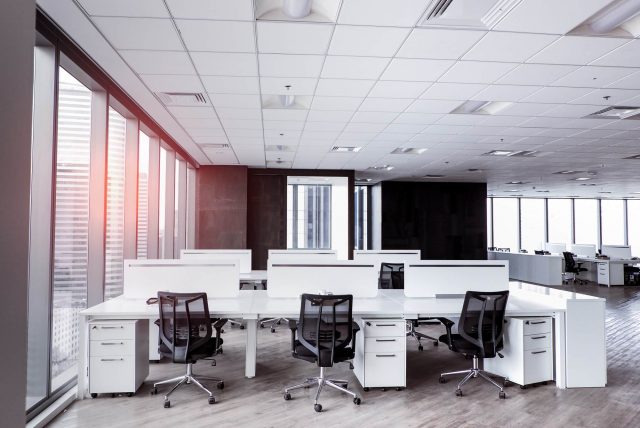 Look for Easy Maintenance and Durability
Choosing floors that are easy to clean, and that are easy to keep clean, can make a big difference in an office setting. You don't want to install flooring that will easily become stained or dirty over time. A busy office setting is full of potential pitfalls that can cause your floors to look dirty. When the floors aren't clean, it creates a negative impression for clients and customers. Try something like luxury vinyl plank flooring to enjoy a beautiful look along with easy care. These floors are available in a range of finishes, and they do a fantastic job at resisting moisture. You can even install luxury vinyl plank floors in areas of your office like the restrooms and break room.
Carpet tile is a popular choice for open office flooring. While it's easy to install and adds a durable touch, it's also difficult to keep clean. Any type of carpeting will absorb moisture and show stains much more vividly than other flooring alternatives. You also want to be sure your open office flooring can withstand a lot of foot traffic. Flooring that shows scratches, scuffs from shoes, and other wear will turn your new floors into an ugly part of the office you'll prefer to keep hidden. When you spend your time worrying about the cleanliness of your floors, it can cut into production time. It's also much more costly to have to replace flooring that's not durable enough to handle your busy workplace.
The Best Flooring for an Open Office Space
Vinyl and laminate are both excellent choices for a busy open office. This material can easily handle a lot of activity without showing damage as quickly as some other options. In addition, luxury vinyl planks offer you the look of real wood without the high price tag. It's a great choice for a foyer, private offices, and hallways as well. Rubber flooring is another good option, particularly in warehouses and busy offices with a lot of activity. This material can handle lots of traffic and it's also slip-resistant which is a good safety feature. Rubber floors are comfortable to walk and stand on, and they also provide exceptional sound absorption.
To create a pleasing aesthetic, ceramic tile flooring is a good way to go. This material looks attractive and can handle the activity of most typical office spaces. While ceramic tile can stain, it's also very easy to clean and can be professionally cleaned to make the floors look new again. However, if you're concerned about noise, ceramic might not be the best choice available. Ideally, you want to stick with open office flooring that cleans up easily, is durable, and can help control acoustics.
Office Noise and Flooring Choices
In an open office setting, noise can be a serious distraction. Whether it's the clicking of shoes on a hard surface floor or chatter from other employees, a noisy workspace can reduce productivity and cause additional stress for employees. You can combat this issue by choosing office flooring that has good soundproofing qualities. Carpeting and carpet tile are both great at absorbing excess noise, however, this type of floor is easily stained and difficult to keep clean. If you decide to install carpet, make sure you opt for thick carpet padding underneath to help absorb excess noise.
Vinyl flooring can keep the noise in your office to a minimum. Just make sure you add the proper underlayment that will provide cushioning and adequate sound absorption. Choose thick vinyl for your open office flooring whenever possible. The thicker the vinyl, the more it will resist showing dents and damage. It's also much better at keeping noise to a minimum. Noise pollution can affect you in the workplace, and it can also cause issues if you work from home so it's good to keep this in mind for any type of office space.
The design of an open office can be a challenge, particularly when it comes to keeping the area organized and noise under control. There are certain types of flooring you should avoid if distraction from noise is a concern. A few examples of flooring to avoid include concrete, hardwood, and stone tile. These materials are not good at absorbing noise and could actually make sounds seem even louder. This type of flooring typically does not require any material installed underneath, which can help to absorb the excess sound. They're also "tough" or harder in texture, which can cause noise to bounce off them and echo throughout the office.
Create a Pleasant Workplace
Once you install new open office flooring, you should notice an improvement in employee happiness and productivity. Not only will flooring like luxury vinyl or rubber floors make your office look beautiful, but they also hold up quite well to the day-to-day foot traffic of busy office spaces. Make sure you choose quality materials and a good underlayment to help reduce noise and absorb sound. When employees have a clean and quiet place to work, they'll be much better off, and so will you.
Dealing with an open office has its challenges, but it also has some perks, too. Take a close look at your office's overall design and consider other ways you can make the space work for everyone in a more efficient way. The flooring you install can have a big impact on the look and feel of your office. Whether you select a beautiful luxury vinyl plank flooring or go with something a bit more commercial, these floors will serve your business well for a long time to come.

---
---