7 Alternate Uses for Flooring Around Your Home
If you have any leftover flooring from your latest home upgrade, there's no reason the excess material should go into a landfill. Flooring doesn't have to be used just for the floors themselves. In fact, many types of flooring materials can have a wide array of other uses that can enhance your home. If you're not sure where to start, here are some alternate uses for flooring to give you a little inspiration.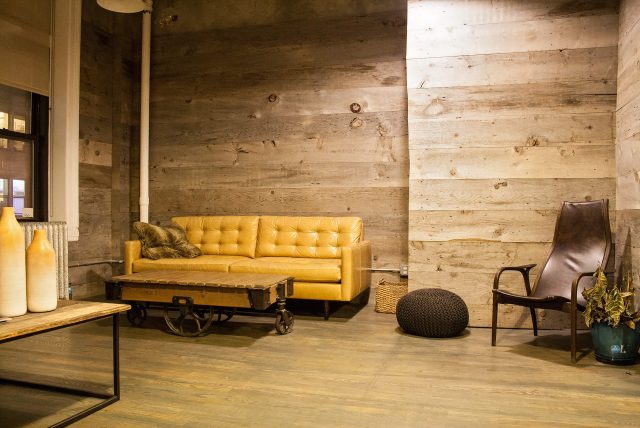 Creative Alternate Uses for Flooring
Create a Statement Wall
Whether it's your dining room or your main living area, an accent wall can add a dramatic impact to your home. Instead of tossing out your old flooring, consider applying it to one wall for a fun and unique focal point. You can easily make a statement wall with a variety of flooring materials. Make sure you measure your wall and ensure that you have enough leftover flooring before you begin. Once you confirm your measurements, you can begin attaching the flooring to your wall using a nail gun or an adhesive, depending on the material you have. Your statement wall doesn't have to be designed in a singular, linear motif. Try creating something luxe and unique, such as a herringbone wood wall that will give any room a bold look that adds plenty of drama to your home.
Make Shelving with Leftover Flooring
Sturdy flooring material can also make an excellent shelf. If you have recently used laminate for your floors, this material makes a beautiful veneer that can be applied over a piece of solid wood. When you use the laminate to create a shelf, it's also a great way to create a cohesive, matching look in your home. Take a piece of MDF and apply the laminate directly over it, then mount your newly created shelf to the wall. If you have leftover tile, simply cut it and apply it on the wood in any pattern you choose. This easy project is one of many alternate uses for flooring that will add functionality to your home as well as a new look. Hang the shelves in your home office or install them in your child's room for a fantastic wall-mounted bookshelf. The sky is the limit when it comes to custom shelving, so have fun with it!
Line the Shelving in Cupboards or Closets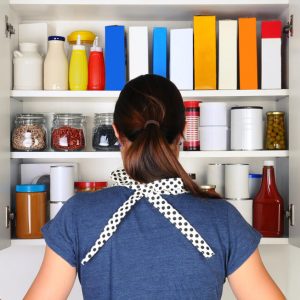 Whether it's laminate or linoleum, extra flooring can make for a fantastic shelf liner. Apply this material to the shelving in your bathroom, pantry, and kitchen cabinets. It's also a wonderful way to line linen cabinets in the hallway or bathroom. You can apply linoleum to your shelves and cabinets for easy cleanup and care. This material won't just look great, but it will also help to protect your cabinets from damage as a result of moisture and spills. Stick-on tiles are also great for shelf liners. Simply cut your flooring to fit, and then apply them to the surface in the same way you would on your floors.
Resurface a Table with Leftover Flooring Materials
If you have an old table that needs some TLC, dress it up by resurfacing it using your leftover flooring. This simple project can add a brand-new look to almost any table in your home. It's a perfect way to renew your furniture and can save you money on purchasing new pieces. Before you apply the flooring material to your table, make sure you thoroughly clean and prep the surface. Sand the tabletop so it creates better adhesion to the table when it's time to add the flooring. Measure the table and make sure you have ample flooring material before you begin. Once your project is complete, enjoy your repurposed table for dining, crafting, or outside in the garden as a beautiful potting table.
Refinish a Bar in Style
There are plenty of alternate uses for flooring, and refinishing your bar is one great way you can make the most out of your leftover materials. If you're currently happy with your bar top, apply some leftover flooring around the bottom edges. This will give your bar a new texture, color, and a bold design that stands out in any space. Apply planks of hardwood, laminate, or pieces of vinyl to the base of your bar to give it a two-toned aesthetic and add definition. Remember to measure around the bar or the top of the bar, then make sure you have adequate flooring available. Adhere the material using glue or a nail gun to make sure that it's completely secure.
Use Flooring to Make Beautiful Frames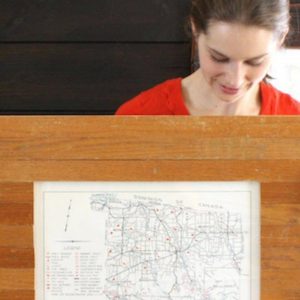 Material like wood and wood-look vinyl can make gorgeous frames for your favorite photos, or it can be used to make a frame for a mirror. Determine the size and dimensions of your frame, then cut each piece to fit. You can attach the pieces together using nail glue, and then wait for it to dry completely before adding glass and your favorite photo. If the flooring is solid wood, use brad nails or staples to attach each section together. Custom frames can also be used to add a pop of texture and beauty to your artwork. If you want to frame art, photos, or a mirror in a different finish or color, paint the flooring before you start the project.
Leftover Flooring in the Garden
No matter what kind of material you've used for your floors, it can be an extremely useful item to accent your garden space, too. Take leftover planks and use them to create a charming garden fence. Cut each piece to your desired size and push them into the ground to create a perimeter around garden beds, flowers, or bushes. This simple project is fun to do and makes the landscaping look beautiful and refreshed. If you don't have a lot of leftover flooring, you can use small pieces to create custom garden markers. Simply mark each piece using paint or a permanent marker and label them to indicate what type of flowers, herbs, or veggies you have.
From an accent wall to photo frames, there are plenty of unique alternate uses for flooring you can try. Have fun with your project and enjoy the fact that you're recycling and repurposing products that might otherwise end up in a landfill. If you don't want to create a DIY project with your flooring, you can always donate anything you have to a local nonprofit organization.

---
---