What is Engineered Vinyl Flooring?
The Short Answer
Engineered vinyl flooring is a type of flooring that consists of a hyper-realistic, exceptionally durable vinyl top layer and a dimensionally stable HDF or MDF core. These components are expertly manufactured together into a plank or panel format, then fastened to a secure backing.
The Evolution of Engineered Flooring
At various times in history with the choice of building materials, specifically flooring, the pros and cons columns one had to consider were decidedly more rigid. Do you want hardwood flooring? Well, best not expose it to an area that's known for lots of moisture. Do you want to impress yourself, and your guests with a high-end floor? Well, best stay away from vinyl, then.
But, those dynamics have shifted in the 21st Century. Now, you don't have to make those kinds of sacrifices.
This is because the industry is always looking to break down those standard pros and cons columns through innovation, making the payoffs for practicality and superior look into a whole package, and not mutually exclusive. It's now much easier to get the best of all worlds when it comes to choosing the right kind of floor covering that will look great, stand up to wear, and last a long time. Flooring products in general have evolved toward these kinds of advantages, of course. But, what's a good and most recent example?
Enter engineered vinyl flooring!
Engineered vinyl flooring anatomy
By now, you've heard of engineered wood flooring, which is a layer of real hardwood, supported by an HDF or MDF core layer, all bound together with a backing layer. Engineered vinyl is similar in principle, also constructed in a plank or panel, so that when you install it, it's a continuous surface. With vinyl engineered flooring, the top layer represents a high-resolution image of a wood floor, or even a ceramic floor, that is meant to be decorative, but also designed to stand up to traffic.
Where and why: install engineered vinyl flooring
One of the things about engineered floors of many types is that you don't have to worry about nailing it to a subfloor. It can be floated, and it can be installed DIY. As such this is one of those options to consider if you're thinking about remodeling the family room in time for family gatherings later in the year without too much fuss.
As far as the where, the options are wide open, since there are fewer restrictions than many other kinds of flooring when you're thinking about longevity and look. Mudrooms, laundry areas, bathrooms are no longer off-limits. And this means that you can afford to spruce up these locations with those colors and patterns represented in the vinyl top later while also saving money using a more lightweight and affordable floor covering.
New vinyl engineered flooring from BuildDirect
You totally saw this coming!
But, we here at BuildDirect have recently launched a selection of engineered vinyl flooring, all of them with an HDF core. This selection offers several features of course, not even mentioning how convincing they are to real wood, stone, and ceramic surfaces. But, the big one in my opinion is the fact that they are 100% waterproof. This is a big deal, especially for those of you who are looking for a warm, wood surface in a bathroom where wood floors and laminate floors are not advised. That's why we've called it the SplasH20 High-Performance Collection.
See what we did there, with the "H"?
Anyway …
If you've got questions about this line of engineered vinyl flooring, drop our sales guys a line at sales@builddirect.com.
Cheers,
Rob.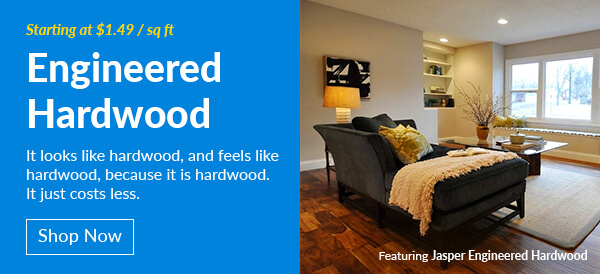 ---
---