Everyone has their dream home but because the expense often outweighs the reality, we work with what we have and remodel piece by piece. Even with this more frugal approach, it can be costly; therefore, the list below is an inspirational group of visionaries that have taken their remodeling into their own hands, showing us how to save a buck in the process.
(We thought we'd change things up a bit today and present some home renovations you might not be doing in the near future. )
1. Adding Additional Rooms
If you're looking to add an extra bedroom or two to accommodate your growing kin (or some imposing houseguests), you might want to look to this subtle home expansion as an example. Without knocking out a single wall, this crafty architect has expanded their homestead and proved that seven mobile homes are truly better than one.
2. Country Style Front Porch
Adding a custom crafted front deck to your home can add a wonderful aesthetic appeal but it can also cost thousands of dollars when all is said and done. If the expense isn't in your budget, simply go to your local scrap yard and find the best piece of plywood available to you. By laying it down where a deck would have gone, you'll achieve identical results at a fraction of the price. No one will know the difference.
3. Pimping the Patio
If you've done all you can to upgrade the interior of your home, you may want to turn your attention to your patio – with some very simple additions, it can be the recreational talk of the town. Try installing a swimming pool, a state of the art BBQ grill or even something as simple as a classic porch swing for those sultry summer nights.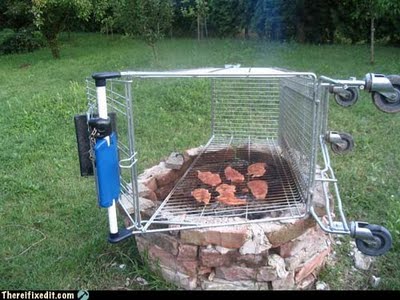 4. Synthetic Siding
Upgrading the siding on your home is a relatively quick and inexpensive way to give your home a dramatic facelift. Especially with older homes, when the original wood starts to weather, you may want to transition into a more durable synthetic material such as vinyl siding or tin license plates.
source: