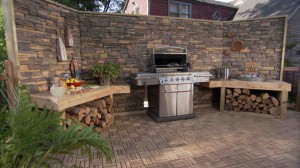 Here's a follow up post to the one we wrote last Friday, before an episode of Debbie Travis' All For One program, which featured our stonework, railings, and deck tiles, was aired.  This is the episode in which Debbie Travis oversees her design for an outdoor living area for a local hero to resident skater kids.
As well as dealing with the problems which often arise during a project like this, Debbie and a group of teens championed a cause beyond the project; the construction of a skate park which had been promised to them, yet put on the backburner by the town council because of other pressing priorities. Yet, the program proved to be something of a rallying point to the community around the needs of teens in the area.
This effort around the skatepark is connected specifically to the kind of work their mentor (and recipient of Debbie's home reno makeover in the episode) Jack Kelly; working with teens, and empowering them to pursue their interests, while developing their character and leadership potential, too.
And to boot, the results of the reno were astounding.  Here are some selected pics of the project for your consideration. Click each one to see it in full:
We were honored that some of our products were used to create such a transformative, and welcoming space for someone so deserving.  And speaking of that, here's a post from Debbie Travis' blog, which includes a note of thanks from Jack himself.
For you Canadian readers who may have missed the broadcast, you can watch Debbie Travis All-For-One Windsor Nova Scotia on CBC.
Cheers!
Rob.